General Information
Seoul is the capital of Korea with over 600 years of history. It is the heart of Korea's culture and education as well as politics and economics. Seoul is home to many old historic sites like Gyeongbokgung and Changdeokgung Palaces, and places of traditional culture like Bukchon Hanok Village, Insa-dong, and Namdaemun Market. The shopping and entertainment districts of Myeongdong and Apgujeong, and Asia's largest underground shopping center COEX Mall also draw a large number of tourists every year. The Hangang River, which runs through the center of the city, is also a distinctive landscape of Seoul that offers a myriad of resting areas for citizens..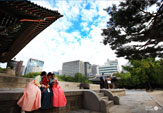 Gaze down on this sprawling metropolis of around 10 million people from atop any of Seoul's four guardian mountains and you'll sense the powerful pungsu-jiri (feng shui) that has long nurtured and protected the city. History clings tenaciously to the 'Miracle on the Han', a phoenix arisen from the ashes of the Korean War. So while Seoul has its eye clearly on the future, you'll also encounter fascinating fragments of the past in World Heritage–listed sites such as Jongmyo shrine, in the alleys between the graceful hanok (traditional wooden homes) in Bukchon, and striding along the magnificent Seoul City Wall.
Design Matters
Over the last decade Seoul has worked hard to soften its industrial hard edges into an appealing urban ideal of parks, culture and design. Glass, concrete and steel are crafted into natural forms at the spectacular Dongdaemun Design Plaza & Park and City Hall. The popularity of the beautifully landscaped parks alongside the central Cheong-gye stream and the Han River has spurred on the creation of more green spaces and cycle routes. Join Seoulites enjoying time out shopping in stylish boutiques and drinking at cool cafes and convivial bars.

24-Hour City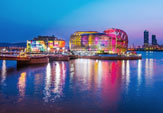 Whatever you want, at any time of day or night, Seoul can provide. An early-morning temple visit can lead to a palace tour followed by tea sipping in Bukchon and gallery-hopping in Samcheong-dong. Soju (a vodka-like drink) and snacks in a street tent bar will fuel you for shopping at the buzzing Dongdaemun or Namdaemun night markets, partying in Hongdae or Itaewon, or singing in a self-service karaoke noraebang. Follow this with steaming, soaking and snoozing in a jjimjilbang (sauna and spa). By the time you look at your watch, it will be dawn again.
Seoul History
Thanks to the constant fighting, the real making of Seoul didn't happen until 1104, when King Sukjong of the Goryeo Dynasty built a palace there. When the Joseon Dynasty took control in 1394, Seoul became their capital and their rule ushered in a time of great political and economic reform and creativity.

In the late 19th century, after hundreds of years of isolation from the outside world, Seoul, which had fallen behind the rest of the world, opened its gates to foreigners and swiftly began to modernise.

It became the first city in East Asia to get such amenities as electricity, running water and the telephone, and boomed as a result. Increasing trade also helped fuel its rise and by the dawn of the 20th century, it had become one of the cleanest and most modern cities in the Korean Empire.

But dark clouds were on the horizon when the Korean lands were absorbed into the Japanese Empire in 1910. Run as a satrap of Japan until 1945, it suffered grievously during WWII, but worse was to come. With Korea divided between north and south and tensions running high, Seoul's citizens were forced into a second war in 1950.

When the war ended in 1953, much of the city was gone and it became the subject of intensive building efforts in the years that followed. That building boom laid the foundations of the modern city.

Hosting the 1988 Summer Olympics announced to the world that Seoul was back and, together with the World Cup in 2002, they helped cement the reputation for ultra-modernity that the city still enjoys today.

Did you know?
• Seoul changed hands four times during the Korean War, held by North Korea, the UN, China and finally South Korea.
• The vast central palace of the Joseon dynasty, Gyeongbokgung, was destroyed during the Imjin War, restored, and then damaged again by the Japanese in WWII.
• Seoul's Myeongdong Cathedral was a centre of pro-democracy protest throughout the era of military rule in the 1970s and 80s.
DETAIL TOUR INFORMATION IN SEOUL